Normandy

High School




Class Of 1984
Welcome to the official Normandy High Class Of 1984 web site. This site will provide each graduation classmate information regarding class reunion activities, registrations, a forum to keep in contact with classmates and much more. Please visit this site often to stay apprised of our activities.
------- Update 06/05/2021 --------------------------
All: Reminder, the Prayer Call Line will be opened and held this Saturday, July 3, for prayer. All are welcome to join. Be blessed, safe, inside and informed.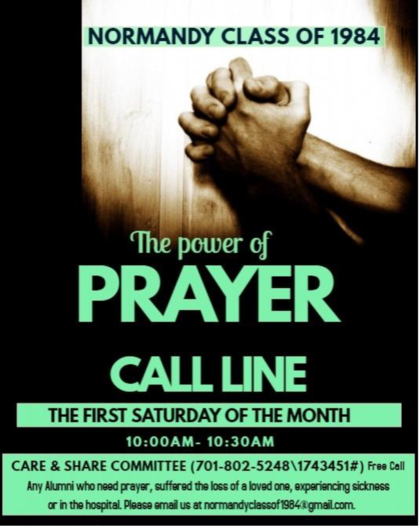 Class of 84 Care and Share Committee
-----------------------------------
Normandy Class of 1984 Committee seeking volunteer as our Secretary to take notes at our monthly meetings. Contact Millicent Victorian at 314-369-1960.
Meeting Structure:
First Year - The meetings will be once a month for the first year.
Thru 2023 - We will have them every other month until 2023.
Year 2024 - We will go back to monthly until the 2024 Class Reunion.
Our next meeting will be Thursday, September, 19th from 6-7pm at the
Panera Bread, 12226 St. Charles Rock Road, Bridgeton, MO
or
call in at 712-770-4700: Access Code - 4622958#